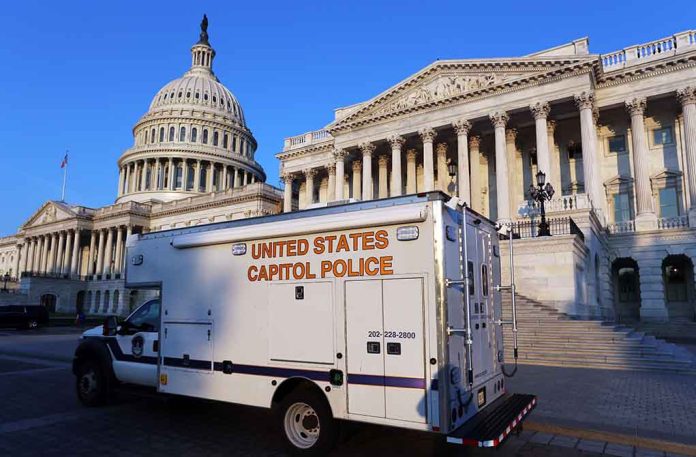 (WatchDogReport.org) – Nine days after sustaining injuries on January 6, 2021, at the Capitol in Washington, DC, police officer Jeffrey Smith took his own life. Due to the fact he committed suicide, his wife did not initially qualify for certain survivor benefits, so she filed a lawsuit to have his cause of death changed to "line of duty." The DC Police and Firefighters' Retirement and Relief Board subsequently granted her request. Now, Smith's widow will qualify for enhanced benefits.
JUST IN: DC police and fire retirement board rules officer Jeffrey Smith's death by suicide days after Jan. 6 a "line of duty death."

The board said injury Smith sustained defending the Capitol "was the sole and direct cause of his death."

His widow will now get 100% benefits.

— Michael Kaplan (@mkaplantv) March 10, 2022
During his defense of the Capitol, Smith sustained a head injury from a strike with a metal pole during the riots. His wife, Erin, stated he was a "different person" after the assault.
The board concluded that his injury caused Smith to shoot himself on January 15, 2021. They came to this decision through a review of his autopsy in conjunction with witness testimony and footage to prove he suffered from a traumatic brain injury.
Erin Smith will now receive an annuity in the amount of her deceased husband's pay at the time of his death. Although no amount of money can make up for the loss of a loved one, at least the compensation will help support the family of someone who dedicated his life to serving the community.
Copyright 2022, WatchDogReport.org