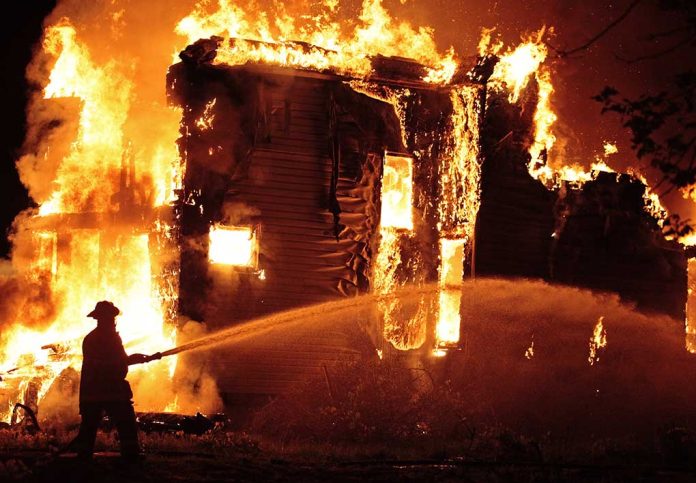 D.C. FIRE Reported – It Looks Intentional!
(WatchDogReport.org) – Two separate fires at churches in Bethesda, Mayland, just outside Washington DC, are the work of vandals, according to local officials. Peter Piringer with Montgomery County Fire and Rescue told ABC News 7 that the churches are concerned they may have been targeted.
ICYMI (7/9) ~130a Sat morn 10100 Old Georgetown Rd, North Bethesda United Methodist Church, arson & associated vandalism, damage ~$1K, in addition Investigators located damaged head stones & broken wood pieces scattered 10200blk Old Georgetwn Rd A/F Wildwood Baptist Church pic.twitter.com/JJuWs4EMvS

— Pete Piringer (@mcfrsPIO) July 10, 2022
Piringer notes that the churches are all in proximity to each other and that there were similarities between the events. Vandals shredded books, removed stations of the cross from the walls, and tried to burn pews. Firefighters responded quickly and extinguished the flames at both St. Jane Frances de Chantal Catholic Church and North Bethesda United Methodist Church, only minutes away.
Wildwood Baptist Church also suffered vandalism, this time to its cemetery. Broken wood and busted headstones lay on the ground in what may be the third in a wave of crime against not just a community, but its centers of faith.
Patricia Zapor, Director of Media Relations for the Archdiocese of Washington said people were coming into St Jane Frances in shock that a person or persons could do such a thing. "We are a community of faith, and we are deeply committed to resilience and recovery," said Zapor. He added that the church is being "tested by fire," though he's confident in the community's ability to rise to the occasion.
Since the Supreme Court overturned Roe vs. Wade, extremist leftists have wreaked havoc on pro-life centers across the country. Could the attacks on churches be another "protest?"
Copyright 2022, WatchDogReport.org