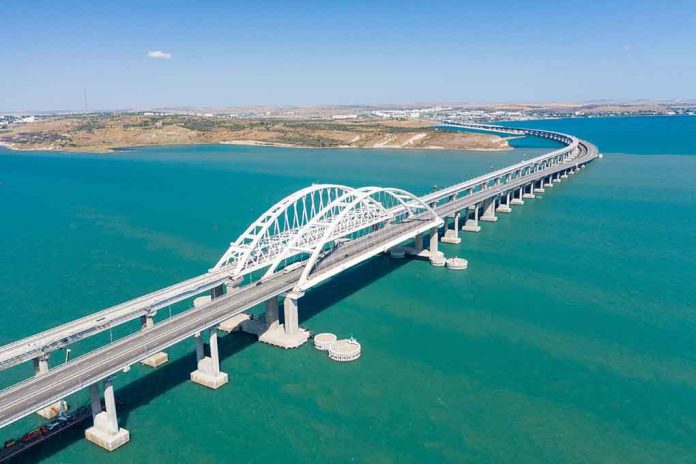 (WatchDogReport.org) – According to recent reports, the bridge that connects mainland Russia with Crimea was brutally attacked, leaving one injured and two dead. The governor of Crimea released a statement claiming that traffic on this bridge was halted after the attack. However, he didn't provide any information about which faction was responsible.
During a press conference, Crimea's congress chairman Vladimir Konstantinov told reporters that the incident was "fully intentional," blaming Ukrainian troops for the attack against the bridge — one of the most crucial supply lines in Russia's invasion of Ukraine. Without offering evidence, Konstantinov also said that the "terrorist regime in Ukraine" gave the order to destroy the bridge.
Russian state media reported that a Russian health ministry official in the Krasnodar region identified the survivor of the attack as the daughter of one of the victims. The TASS news agency said that people in Krasnodar were afraid as this region is located in the eastern zone of the bridge. It added that residents near the site contacted authorities in the morning hours as they were already hearing "heavy explosions."
On his Telegram channel, Belgorod governor Vyacheslav Gladkov said that the girl who survived was severely injured. He also said that Ukrainian troops were the "ones who attacked the bridge." He added that people in Belgorod are in "distress."
Media outlet Crimea 24 reported that while the bridge suffered severe damage, not a single part fell into the water. It also noted that local authorities managed to make some repairs to the main components of the damaged infrastructure and reopened the bridge seven hours later.
The bridge was already targeted by Ukrainian troops in October of 2022 when a truck bomb was detonated, destroying a significant piece of the construction. Political analysts said at that time, this represented a significant problem for Russian President Vladimir Putin as the bridge needed to maintain Russian military presence in Crimea.
Copyright 2023, WatchDogReport.org