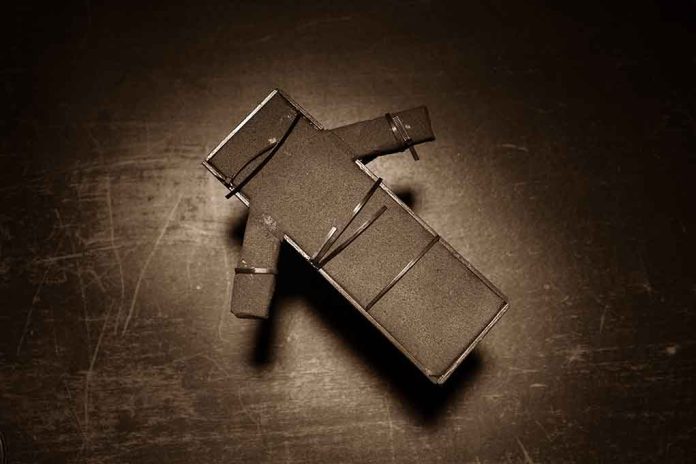 Execution ORDERED – Chilling LAST WORDS Revealed
(WatchDogReport.org) – Like many other issues facing the country today, the death penalty is one that splits America with the federal government and 24 states having capital punishment statutes on the books. On August 25, the State of Oklahoma executed 50-year-old James Coddington via lethal injection for a brutal murder he committed in 1997.
Facts of the Case
According to documents from the Court of Criminal Appeals of Oklahoma from 2006, Coddington was a cocaine addict who had relapsed and claimed to be spending $1,000 per day on his habit. He quickly ran short on cash, which should come as no surprise considering his own estimate would put his yearly outlay at a figure approaching a half million dollars.
On March 5, 1997, he paid a visit to his coworker and friend Al Hale (73), who knew of his addiction, to borrow some money for a fix since he did not net enough from robbing a convenience store earlier that day. Apparently, it was a widely known fact that the victim kept large amounts of cash in his house. The record shows that he had more than $24,000 in a closet that day.
When Hale refused to give him any money and told him to get out, Coddington picked up a claw hammer that had been left out and hit the older man in the head at least three times, leaving him for dead. Not only did he take the money he found in the victim's wallet, but the killer also went out and held up five more stores that day.
Coddington was arrested and interviewed where he confessed to the murder, claiming that it was a spur-of-the-moment response. In his appeal, he admits he was read his Miranda rights and that he freely waived them.
Clemency Refused and Final Words
As the date of his execution drew near, Coddington went to the Oklahoma Pardon and Parole Board in an attempt to obtain a reprieve. He presented evidence of childhood abuse, including a claim that his father would put alcohol in his baby bottles.
Coddington's lawyers made other fine-point legal arguments as to why he should be given the mercy he failed to show Hale. The panel agreed in a 3-2 vote and sent their recommendation for clemency to Governor Kevin Stitt (R).
The tough-on-crime governor decided against using his authority to commute the sentence to life in prison without parole, clearing the way for the scheduled execution. John O'Connor, the state's attorney general, issued a statement expressing disappointment with the three parole board members who recommended leniency.
O'Connor noted how two different juries found a death sentence was "the appropriate punishment." The decision was also upheld by appellate courts "after years of thorough review."
With his final words, Coddington thanked his family and lawyers and offered his forgiveness to Governor Stitt for refusing his clemency request. Hale's son Mitch, who was present for the execution, said his words rang hollow because he never mentioned his father nor apologized.
Copyright 2022, WatchDogReport.org