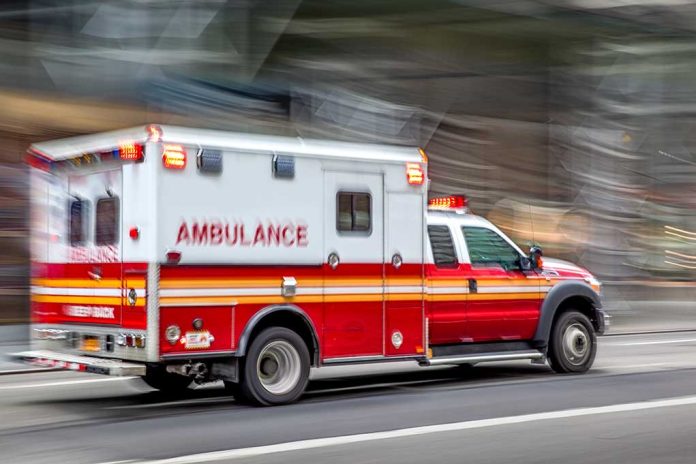 (WatchDogReport.org) – Representative Suzanne Bonamici (D-OR) has faithfully served Oregon's First Congressional District since 2012. Before that, she served in the Oregon House and Senate. Currently, she's recovering at home after being hit by an automobile.
Saturday afternoon, January 13, Bonamici's communication director, Natalie Crofts, posted a statement on her Twitter account announcing that a car struck the congresswoman and her husband. The couple was attempting to cross the road at a crosswalk after attending a Portland event.
She was treated for a concussion and laceration to her head. He was treated for minor injuries. She has been released from the hospital to recover at home.

— Natalie Crofts (@njcrofts) January 14, 2023
Crofts advised that Bonamici suffered from a laceration to her head and a concussion, but was released from the hospital to complete her recovery at home. Her husband, US District Judge Michael Simon, received treatment for minor injuries.
The following day, Rep. Bonamici posted a brief statement thanking everyone for their "well wishes." She also extended her gratitude to first responders and healthcare workers for their assistance and confirmed she and Michael were continuing their recovery at home.
Thank you to everyone for your well wishes, and to the first responders and health care workers who provided the care we needed. My husband and I are continuing to recover at home, and are grateful for your kind thoughts and support.

— Suzanne Bonamici (@RepBonamici) January 15, 2023
As one might expect, Bonamici's co-workers in Washington and members of her community at home reached out with words of encouragement. In a particularly poignant display, a group of Beaverton teenagers spoke out about their safety concerns regarding automobiles.
Beaverton teens who won award from Suzanne Bonamici highlighted safety concerns where motorist hit congresswoman https://t.co/zQ30KQpyRF

— The Oregonian (@Oregonian) January 16, 2023
They received an award from the congresswoman in November 2022 for an app they developed to help motorists and bicyclists avoid high-crash routes. The app, BikeBetter, uses data gathered from the Oregon Department of Transportation.
Oregon Live reported the app indicated that several crashes occurred on Northwest Everett Street, where the congresswoman and her husband were struck. Nivedha Sathish, 13, confirmed there are "quite a few streets that are alarming" in the area, and "Everett is definitely one of them."
The congressman had to cancel two previously scheduled town hall meetings on Saturday. Likewise, she won't be able to attend other public events for the foreseeable future. However, Bonamici is expected to make a full recovery.
Copyright 2023, WatchDogReport.org