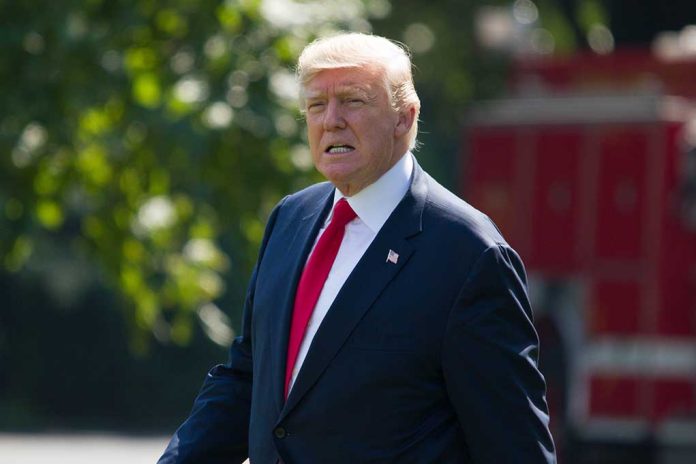 Another Trump Enemy DOWN – Votes Are In!
(WatchDogReport.org) – An anti-Trump Republican lawmaker won't be trying to hold his seat during November's midterm elections. Representative Tom Rice (R-SC) lost his primary to a challenger backed by the former president. It's a visible sign of the support Trump still commands among grassroots Republicans.
Laxalt wins Nevada GOP Senate primary, S. Carolina GOP Rep Rice loses primary after impeachment vote https://t.co/6TqKfjf0kw

— Just the News (@JustTheNews) June 15, 2022
Last year, Rice was one of 10 congressional Republicans who sided with Democrats and voted to impeach President Trump. Now, Trump has had his revenge. On June 14, four states, including South Carolina, held primaries, and Trump endorsed several candidates who share his MAGA vision. One of them was State Representative Russell Fry, who ran against Rice and five other candidates for South Carolina's 7th Congressional District — and won. It's the first victory for a Trump-backed challenger against an incumbent in this midterm cycle.
There was good news for another Trump endorsee in Nevada. Adam Laxalt, a former Nevada attorney general, won the Republican Senate primary and will now face Senator Catherine Cortez Masto (D-NV) in November. That's a race he stands a good chance of winning. Now, all eyes are on Nevada's GOP gubernatorial primary, where Clark County Sheriff Joe Lombardo is Trump's anointed candidate.
While Trump's endorsements aren't carrying the day in every race, it's still a big boost to the chosen candidates — and that shows how popular he remains with many Republicans. With no obvious rivals in sight yet, it looks like there's a good chance he'll be the GOP nominee again in 2024.
Copyright 2022, WatchDogReport.org