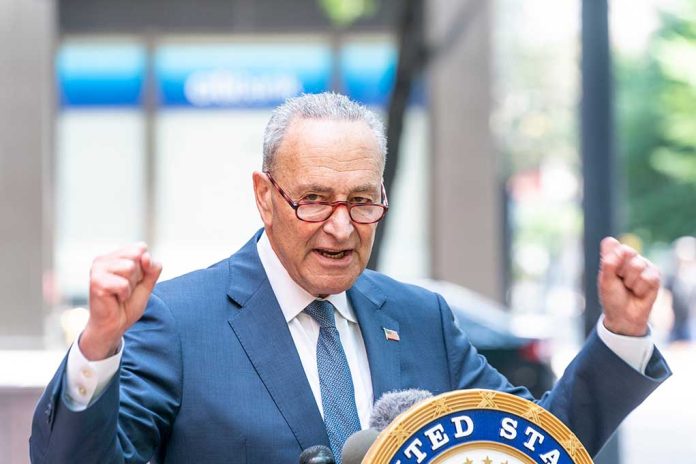 Assassination Attempt AFTERMATH – Chuck Schumer Video Unearthed!
(WatchDogReport.org) – Social media influencers are splattering a video of Senator Chuck Schumer (D-NY) across the internet to remind the leftist New Yorker — and his followers — that words have consequences. In the video, Schumer threatened Justice Brett Kavanaugh and Justice Neil Gorsuch, in what some are calling an "insurrection against the Supreme Court" (SCOTUS).
Here's Chuck Schumer encouraging an insurrection against the Supreme Court. Republicans may need to start a June 8th committee to investigate when they take back the House and Senate this fall. pic.twitter.com/CC6jzQVrCC

— Clay Travis (@ClayTravis) June 8, 2022
Schumer states plainly that the justices will "pay the price" for their possible upcoming decision to overturn Roe vs. Wade. Last week, a man showed up at Justice Kavanaugh's home in Maryland, armed with a handgun and carrying everything a person might need to kidnap someone. Luckily, the man was apprehended without incident.
Schumer's remarks are raising eyebrows again not only because the senator seems to think targeting a SCOTUS justice is okay, but because the Democrats seemingly missed the boat on the hypocrisy involved. Schumer's remarks, which were defended as political jargon, don't seem to qualify for the same scrutiny as remarks by former President Donald Trump, members of his family, and staff on the morning of January 6, 2021. There are currently hearings cutting into prime-time television to investigate that event.
The man who was arrested for attempting to kidnap and kill Kavanaugh told authorities he was upset about the upcoming decision on Roe vs. Wade specifically. It would seem that Schumer's call to arms was answered, whether he plans to admit it or not.
Copyright 2022, WatchDogReport.org