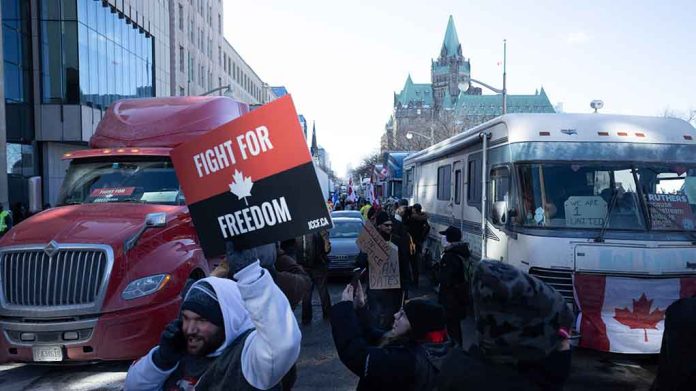 (WatchDogReport.org) – On February 3, GoFundMe froze $10 million in donations meant to support the Freedom Convoy truckers standing up against the tyrannical vaccine mandates in Canada. Afterward, GiveSendGo took the reins and raised $8.6 million for the same effort. An Ontario court tried to freeze those assets as well, but ultimately failed. Instead of buckling to the order, the fundraiser chose freedom by posting on Twitter its intention to distribute the funds "directly to the recipients."
Know this! Canada has absolutely ZERO jurisdiction over how we manage our funds here at GiveSendGo. All funds for EVERY campaign on GiveSendGo flow directly to the recipients of those campaigns, not least of which is The Freedom Convoy campaign.

— GiveSendGo (@GiveSendGo) February 11, 2022
The fundraising organizers with GiveSendGo collected the money to aid the truckers to cover gas, food, and shelter costs during their important stand. GoFundMe ended up returning all collected money back to the donors, but its Christian fundraising counterpart is determined to deliver the resources straight to the front lines.
Although the court's decision might slow down the distribution process, one option it may consider is handing out the money in the form of decentralized cryptocurrency.
Alberta already caved to pressure, recently lifting vaccine passport mandates, and Ontario will reportedly soon do the same. Canadian Prime Minister Justin Trudeau referred to the freedom fighters as a "fringe minority" who have "unacceptable views" that don't represent Canada as a whole.
However, many supporters have opened their homes to the truckers and are lining up on the side of the road to cheer them on, and their donations might sustain them long enough to defeat the governmental attack on the freedoms both Canadians and Americans hold dear.
What do you think about GiveSendGo's actions? Are they heroes? Villains? Or just a company doing its job? Send us an email and let us know.
Copyright 2022, WatchDogReport.org