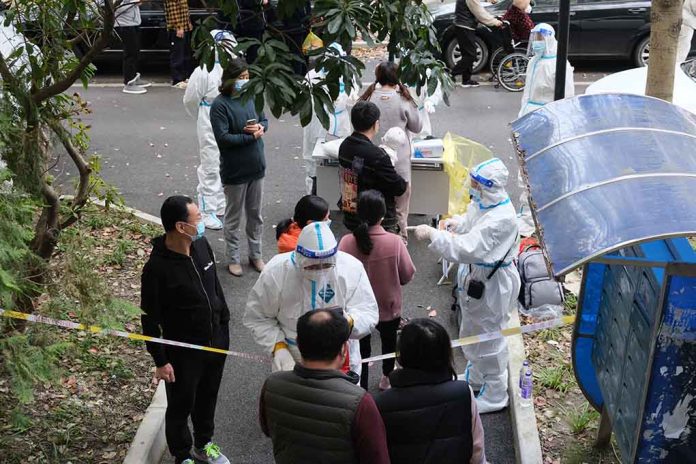 (WatchDogReport.org) – The People's Republic of China, the suspected birthplace of the COVID-19 pandemic, has a zero-COVID policy. Lockdowns across the expansive country are harsh and sometimes even cruel. In Shanghai, extreme measures to squelch the spread of the disease haven't been enough to stop the virus completely. On Sunday, April 17, the huge industrial city reported its first deaths from COVID since 2020.
The deceased, three elderly people aged 89 to 91, all had underlying medical conditions. China's policies for mitigating the spread of the coronavirus seemed to work well against the original strain as well as most of the variants — except Omicron. The highly-transmissible cousin of the original tends to present with no symptoms. China's policies, however, still use the raw case count to determine how much to tighten the screws rather than the number of severe cases and deaths.
China reports its first three deaths linked to the COVID-19 outbreak in Shanghai, as the country battles its worst surge of infections since the pandemic began. https://t.co/N6ZVlZ4HhC

— ABC News (@ABC) April 18, 2022
With Shanghai reaching nearly 20,000 cases, authorities went directly into "zero-COVID" mode, going from a half-measure to a full lockdown of the city. Residents have protested openly as the government fails to provide adequate food and lines the streets with authorities in full protective suits and gas masks. The measures were so extreme in the beginning, the government ordered all pets exposed to the virus euthanized. The city stopped the policy after an outcry from the people.
Shanghai seems to have managed to prove that, at least against Omicron, lockdowns don't seem to work. While most of the western world focuses on treating the milder form of COVID, China's largest trade center continues to live in the pandemic past.
Copyright 2022, WatchDogReport.org