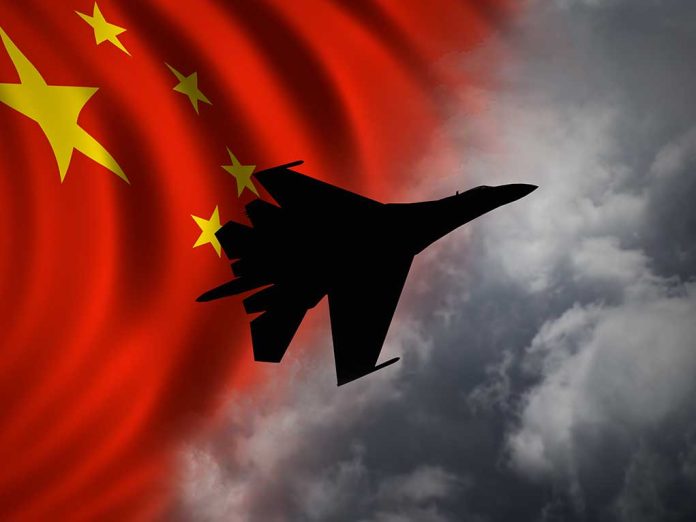 (WatchDogReport.org) – The tension between China and Taiwan has been nearing a boiling point for many months. Recent actions by the Chinese Communist regime have turned up the heat, as they flew another series of fighter jets across the Taiwan Strait to "carry out" surveillance on June 11.
Recently, Taiwan's authorities have looked on with growing concern as Chinese fighter jets have passed ever closer to the island. The Chinese Communist government does not recognize Taiwan as a sovereign nation, referring to it as Chinese Taipei.
Media reports stated that the U.S. Pentagon is "freaking out" over the prospect of conflict with China over Taiwan's sovereignty and trade in the South China Sea. Pentagon analysts have pondered the implications of a war scenario with the Communist regime. War games have allegedly been bleak, with the cost outlook trending high. The view is that a possible conflict will have "major losses" on all sides.
Taiwan has been scrambling for jets in response to the 10 fighters that crossed into their sovereign airspace. In addition to the warplanes, Taiwan likewise deployed warships to meet the threat of China in its waters.
As pressure from the Chinese military continues to ramp up, Taiwan has purchased "400 anti-ship missiles" from the United States. The Pentagon announced a "$1.17 billion" contract with Taiwan for Harpoon missiles manufactured by Boeing. The contract was signed on April 7, although it was not publicly disclosed who the purchasers were at that time. A U.S. Defense Department official who spoke with Fox News explained that the "defense articles" were needed to sustain Taiwan's security.
During a press event in September, U.S. President Joe Biden pledged to defend the sovereignty of Taiwan if the Chinese regime invaded Taiwan. The United States has reportedly increased its military presence in the Taiwan Strait in anticipation of hostilities between the PRC and Taiwan.
Despite skyrocketing tensions, the United States has allowed South Korea and Taiwan to keep their chip makers in China. Political analysts worry that this will "weaken" the export controls the U.S. put on the chip industry to "curb" Beijing's aggressive trade practices.
Copyright 2023, WatchDogReport.org