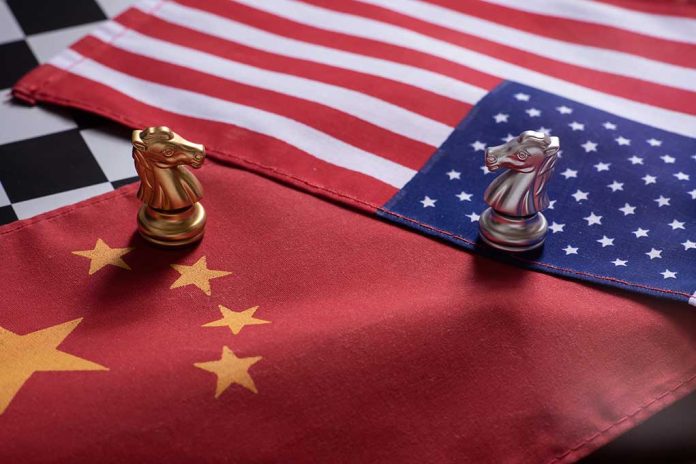 China Promises FORCE Against Nancy Pelosi!
(WatchDogReport.org) – A report saying House Speaker Nancy Pelosi (D-CA) will visit Taiwan appeared in the Financial Times (FT), sparking immediate outrage and aggressive language from the Chinese government. Quoting anonymous sources, FT says Pelosi plans to visit several countries in the region to reinforce relationships as tensions with China increase. She and a delegation will reportedly visit Taiwan, Singapore, Malaysia, and Indonesia — but not without a threat from China.
#China urges that #US must not arrange House Speaker Nancy Pelosi's Taiwan visit, stop official exchange with #Taiwan, and stop creating tensions over the Taiwan Straits, or China will take forceful countermeasures: Chinese Foreign Ministry pic.twitter.com/qc4Xl0fS8H

— Zhang Meifang张美芳 (@CGMeifangZhang) July 19, 2022
The very thought of the US sending an official delegation to Taiwan doesn't sit well with the Chinese Communist Party, which rules the country with an authoritarian fist. According to a Washington Post translation of a statement by Chinese Foreign Ministry Spokesman Zhao Lijian, his country will take "firm and forceful measures" to prevent the US or any other nation from threatening China's sovereignty. While Taiwan declares itself free, China disagrees and considers the island country a part of its geography, making it clear for years that it intends to take it back if necessary.
Diplomatically, the United States recognizes the One China policy, which states that while speaking to the Taiwanese as an independent nation is somewhat tolerated, referring to it as such is not.
Hu Xijin of the state-run media outlet Global News said if Pelosi insists on showing up, she'll be the "enemy that divides China." He also notes that she'll likely be responsible for turning the Taiwan Strait into an active military theater:
If she really dares to visit Taiwan, it will be a major serious incident. She will be the enemy that divides China. She will experience a risky visit. She will also bear historical responsibility for possibly triggering a military conflict in the Taiwan Strait. pic.twitter.com/pNXIRvtX0W

— Hu Xijin 胡锡进 (@HuXijin_GT) July 19, 2022
If Pelosi is planning to show up in an official capacity on the highly-contested island, China says it will see it as an act of aggression. Should Pelosi head to the region to build trust and support with allies there, or is the prospect of a military conflict too severe?
Copyright 2022, WatchDogReport.org