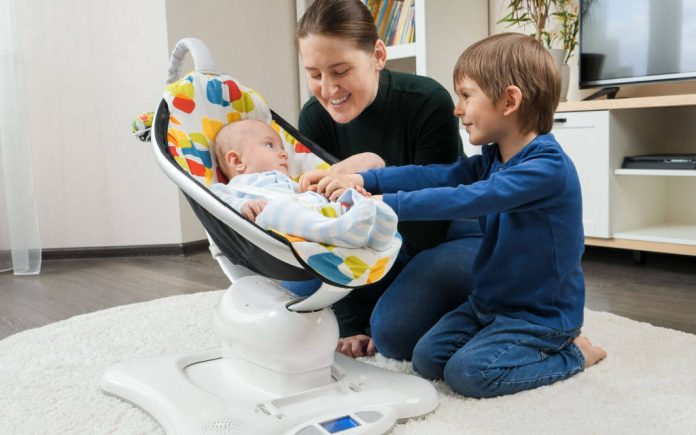 RECALL ALERT – Deadly Defect Found!
(WatchDogReport.org) – Millions of parents use infant swings to soothe their babies or keep them occupied in a controlled environment throughout the day all over the world. Sadly, for one baby, the popular device proved deadly. Now, millions of swings are being recalled.
On August 15, the US Consumer Product Safety Commission and Thorley Industries (doing business as 4moms), in conjunction with the Canadian government, issued a recall for 230,000 RockaRoo rockers and more than 2 million MamaRoo swings. According to the notice, the rockers and swings pose a threat to infants when they aren't in use. The safety straps hang below the equipment, and crawling babies can get tangled in them and suffer strangulation.
#Recall: @4moms recalls more than 2 million MamaRoo and RockaRoo infant swings and rockers due to entanglement and strangulation hazards. Get free repair. CONTACT: 877-870-7390, [email protected]. Full recall notice: https://t.co/0F1e0MVqwA pic.twitter.com/JBcMEYOJpO

— US Consumer Product Safety Commission (@USCPSC) August 16, 2022
Buzzfeed News reported that 4moms CEO Gary Waters said the company is "deeply saddened by the two incidents" and, after an investigation, "decided to conduct a voluntary recall" for the rockers and swings.
The recall came after two infants became entangled in the straps while they were crawling. One of the babies, a 10-month-old, died from their injuries. To prevent further incidents, 4moms is offering parents and caregivers a free fastener kit for the straps.
Consumers can contact the company at [email protected], https://www.4moms.com, https://www.4momsrecall.expertinquiry.com/, or by calling 877-870-7390.
Copyright 2022, WatchDogReport.org