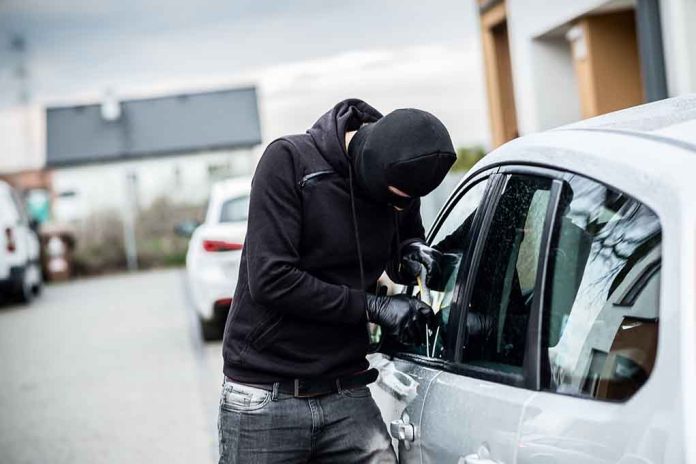 (WatchDogReport.org) – According to Statistica, vehicle thefts in the United States peaked at over 1.6 million in 1991 and steadily declined throughout the '90s before bumping through 2003. The number of thefts dropped again, hitting below one million in 2008. A new report from the National Insurance Crime Bureau (NICB), however, shows this criminal activity is on the rise once again.
On March 8, the NICB stated there were over 75,000 monthly vehicle thefts throughout 2022, pushing the yearly total to over a million for the first time in 14 years. According to the bureau, the number represented a 7% increase over the previous year. Illinois topped the list of double-digit bumps at 35% year over year, followed by Washington with 31%, New York at 23%, and Texas, Colorado, and Missouri showing a 10% rise — each.
President and CEO of the National Insurance Crime Bureau, David Glawe, said many of the thefts are "juvenile offenders," according to Fox News.
Car thefts hit 1 million in 2022 due to weak enforcement and juvenile offenders, NICB says https://t.co/OKXbFICL9E

— Fox News (@FoxNews) March 8, 2023
Glawe said states need to incorporate programs to help prevent youths from straying down the wrong path. In addition, he believes areas need to put more money into local police and give authorities the tools and resources they need for "community policing programs" and the prosecution of criminals.
NICB included some tips for car owners to help them avoid becoming victims of car theft. They encouraged drivers to keep the windows up, the doors locked, and the keys out of the vehicle. The bureau also suggested parking in a well-lit area if car owners cannot park inside or seek out places with posted security personnel. Motion sensor lighting at home might also be a smart idea. Glawe suggested people never leave their vehicles running and unattended.
Fox News reported that some car manufacturers are stepping up to provide more safety measures, like steering wheel locks and an incorporated factory alarm that will activate an "ignition kill" feature, making the theft of some cars more difficult.
Copyright 2023, WatchDogReport.org