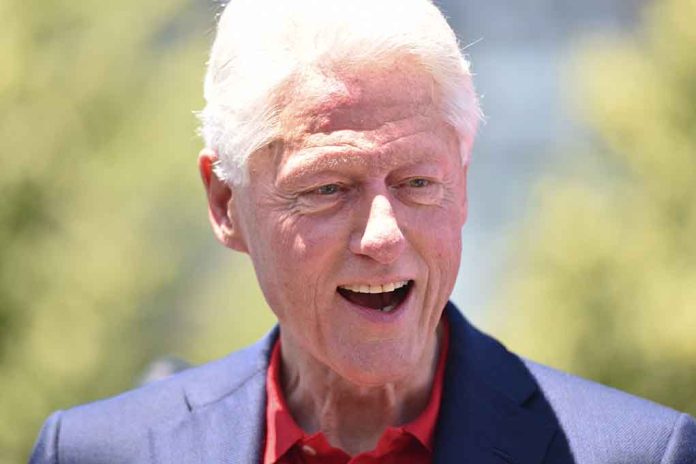 Bill Clinton Laughs About Epstein, Says "Evidence Is Clear"
(WatchDogReport.org) – Jeffrey Epstein was a billionaire, convicted child molester, and associate of many rich and powerful people the world over, including former President Bill Clinton. During a last-minute campaign event for Representative Henry Cuellar (D-TX) in Laredo, Texas, a reporter asked Clinton about their relationship, and his answer, along with a toothy grin, was that "the evidence is clear."
I am not suicidal…just in case

— Juan More News (@JuanMoreNews) November 7, 2022
That being the case, a review of some of that evidence seems to be appropriate at this point in time. A July 1, 2008, article published by The Guardian that coincided with Epstein's 18-month jail term for his sexual encounters with girls as young as 14, let the world know Clinton had taken a trip to Africa with the disgraced financier and thought quite highly of him. The article notes how Epstein owned a Caribbean island since the mid-1980s, which has since been dubbed "Pedophile Island."
Epstein owned his own private 727 aircraft nicknamed "The Lolita Express" because it was rumored to have had a bed where group intercourse with young girls took place, according to a May 13, 2016 article on Fox News. The article also claims the outlet reviewed flight logs indicating Clinton had flown on that plane roughly two dozen times.
Virginia Giuffre became the face of all the alleged victims when she stood up and accused Great Britain's Prince Andrew of having relations with her at the age of 17. She has also alleged Clinton had been seen on the private island partying with two young girls from New York.
Witness interview:

Bill Clinton was at Epstein's island with Jeffrey Epstein, Ghislaine Maxwell, and "2 young girls." pic.twitter.com/NG8PbaZLNt

— Techno Fog (@Techno_Fog) July 31, 2020
It appears some of the "evidence" seems to paint Clinton in a less-than-favorable light, so maybe he shouldn't point to it.
Copyright 2022, WatchDogReport.org