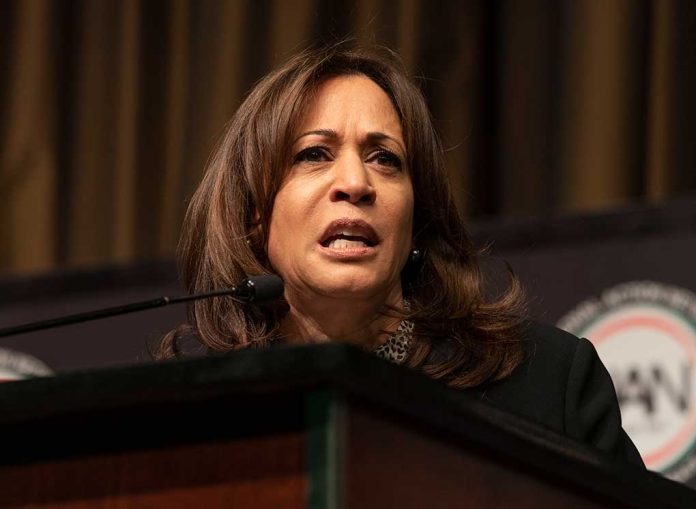 (WatchDogReport.org) – According to a Washington Post Sunday report, the Biden administration is making efforts to bolster the image of Vice President Kamala Harris for next year's election. The report pointed out that the White House is "staging" her alongside President Joe Biden on purpose. The latest example came with the photo of the president and House Speaker House McCarthy during the debt ceiling negotiations, where Harris was "positioned at the center."
The liberal newspaper said Democratic operatives revealed this public staging is part of "a concerted effort" to boost the vice president's image. The report explained this operation started when President Biden announced his reelection bid.
Many believe this isn't surprising since Harris has been one of the weakest figures in the Biden administration in popularity. Experts point out it is crucial for the vice president to have better poll numbers to boost President Biden's chances of getting reelected.
As reported by the Post, a close Biden ally named Anita Dunn has been tasked with scheduling different events for Harris to boost her image. The liberal newspaper pointed out she told the White House teams to organize infrastructure spending and abortion events for the vice president.
A professor at the University of St. Louis' law school, Joel Goldstein, told the Post that Harris's initial "sound bites" keep defining her. She explained these include border security, a disastrous interview with Lester Holt, and staff turnover, all of which have damaged the Vice President's image. Goldstein also told the Post it's important to change these sound bites so people stop defining her for these.
Over the last few months, many Democrats have criticized the vice president because of her lack of "basic political skills." In addition, many political analysts have said she still hasn't connected with the American voter, who keeps seeing Harris as cold and uncharismatic. However, the Biden administration hopes to change this reality in the coming months to get Harris and the president reelected.
Copyright 2023, WatchDogReport.org