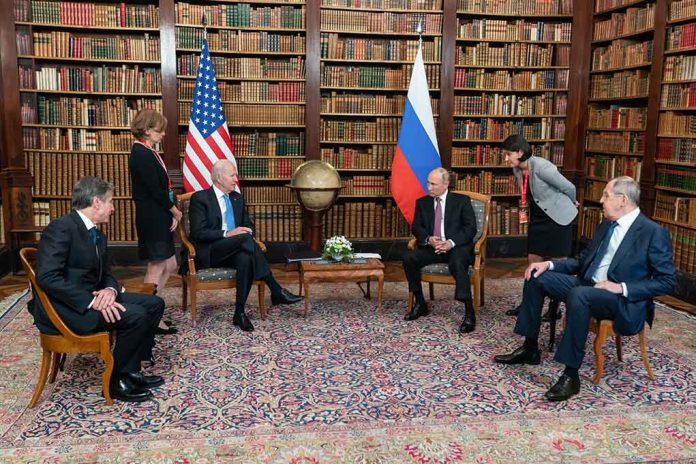 (WatchDogReport.org) – Trades and other transactions in the sports world can cause resentment between teams for decades, like the ongoing feud between Major League Baseball's (MLB) New York Yankees and Boston Red Sox, which traces back to a deal made in 1919 with Babe Ruth. President Joe Biden just made a trade for Women's National Basketball Association (WNBA) Phoenix Mercury center Brittney Greiner, and the result could be much more devastating for the world than what might happen to some guy walking into Fenway Park with a famous NY baseball cap.
Busted in Russia
Greiner was arrested at an airport near Moscow, Russia, with vape cartridges containing hashish oil, a cannabis derivative that contains high levels of THC — the psychoactive ingredient that produces the "high" that attracts so many users. This was in mid-February, just about the time that Russian President Vladimir Putin sent his military forces over the border into Ukraine.
After eventually pleading guilty on July 7, Greiner was sentenced to nine years in prison, which her lawyers unsuccessfully appealed. She was eventually transported to the penal colony known as IK-2 in Yavas, in Russia's Mordovia region.
Beyond just the normal rigors of a Russian gulag, it was anticipated she would face harsher treatment because she's a black homosexual woman, both of which can be frowned upon in that society. However, it's quite possible those same traits played into the continued interest in securing her release.
Major Controversy
In order to get Putin to agree to send a basketball player who had admitted to her crimes sent back to the United States, Biden sent a convicted terrorist into the hands of the man who started a war. In 2011, the Department of Justice (DOJ) proudly announced the conviction of one Viktor Bout for numerous serious crimes.
The DOJ press release at the time said he was "convicted on all four counts, including conspiring to kill Americans and conspiring to provide material support to terrorists." As the Russian state news service Tass spins the story, Bout was just a businessman who got railroaded by the Americans and suffered a great deal of physical and mental pressures, including doing almost nothing for a bacterial infection that he contracted in June 2022.
Criticism of Biden's deal has been swift and sometimes brutal, especially because of the saga of Paul Whelan, a former United States Marine who has been in Russian custody since 2018. Representative Marjorie Taylor Greene (R-GA) took to her Twitter feed saying that this is yet "another reason to impeach Biden," and asked the rhetorical question, "how many people will Viktor Bout now kill?"
John Bolton, who was a national security advisor to President Donald Trump, tweeted out how he feels it wasn't really a trade at all, but rather "an American surrender," and that "terrorists and rogue states are smiling." In a press briefing, White House Press Secretary Karine Jean-Pierre claimed that during the negotiations, it became clear "the choice became to either bring Brittney home or no one."
Jean-Pierre went on to say that Greiner is so important because she is "a role model and inspiration to millions of Americans." She repeatedly stressed the Russians were unwilling to include Whelan in the negotiations because they treated his situation differently.
This may be one of the most asinine comments of Jean-Pierre's time as press secretary, and there have been plenty of those. Putin just sent a woman to America who broke his country's law, but in a nonviolent manner, and in return, he got back a hardened gunrunner and terrorist.
Copyright 2022, WatchDogReport.org