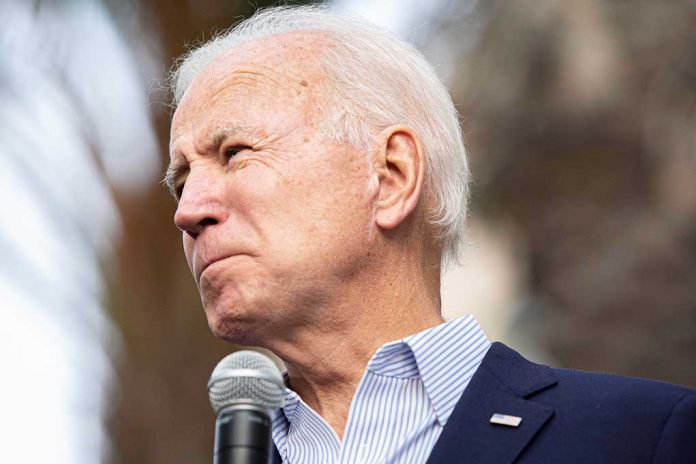 (WatchDogReport.org) – During the 2020 presidential primary campaign, the hosts of the Leftist podcast Pod Save America frequently complained that Joe Biden wouldn't sit down for an interview. That was especially odd because the hosts were former officials of the Obama-Biden administration.
Biden's aversion to interviews is well-known in the media. His refusal to have in-depth conversations with members of the media became a big deal in the 2020 presidential race. In fact, the press, especially Conservatives, discussed how he holed himself up in his basement quite a bit. When he took office in 2021, there was some hope Biden would change. He didn't, and now, it might hurt him.
Biden's Not Talking
President Biden took office on January 20, 2021, but he didn't hold his first press conference until 64 days later. It was the longest time the press had to wait to speak to a sitting POTUS in the last century.
For the sake of comparison, former President Barack Obama held his first press conference on February 9, 2009. His comments came just three weeks after he assumed office. Throughout the next 8 years, the 44th president held 163 question-and-answer sessions with the press.
Former President Donald Trump held his first formal press conference on February 16, 2017, less than a month after he became the commander-in-chief. Trump held 88 press conferences in just 4 years. He also regularly spoke to the American people through his Twitter account — although that avenue didn't allow people to ask him questions.
President Joe Biden has held seven press conferences since taking office. Although that may seem like a lot, only four of them were solo and it took a long time for the press to get those. In June, CNN lambasted the president for not speaking to the press again. At that point, 138 days had gone by since he last took questions.
Afghanistan Crisis
In the wake of the disastrous withdrawal of troops from Afghanistan, Biden has made speeches on television. He spoke from a script and also sat down for an interview with George Stephanopoulos (some accuse ABC of cutting unflattering portions of that interview,) but he hasn't fielded tough questions from a room full of reporters.
Biden's refusal to speak to the press frequently, especially at a time like this, leads people to believe he's hiding something. There have always been concerns from some about how his staff protects him. The American people deserve to hear answers from the president, but Biden isn't cooperating. Why? Staying silent is going to make people think he isn't trustworthy, and that could be a massive blow to his administration.
Copyright 2021, WatchDogReport.org