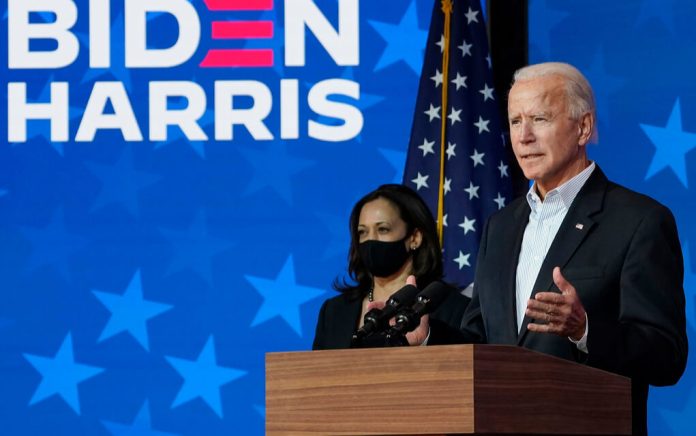 (WatchDogReport.org) – On Wednesday, January 6, violent protests wracked the US Capitol. Conservatives suspect members of Antifa dressed as supporters of President Donald Trump, broke into the building, and set out to make the commander-in-chief look bad. Investigative reporter Paul Sperry said a former FBI agent saw a busload of Leftists infiltrate the crowd. Another man posted a video on social media and said he was paid to protest.
On Friday, the Capitol Police announced an officer died the day before as a result of the violence.
Now, Joe Biden and Kamala Harris are making shameful allegations about the officers who worked to protect lawmakers.
Harris and Biden Play the Race Card
As the incident unfolded at the Capitol, many people on both sides of the aisle wondered why there wasn't a larger police presence. The officers who were there seemed to be overwhelmed pretty quickly by the number of protesters. Another sign the violent agitators weren't Conservatives is because Conservatives back the blue.
The questions about police presence after an incident like that are normal, but Biden and Harris took it a step further.
In a speech on Thursday, Biden claimed BLM protesters "would have been treated very, very differently" than the protesters who were dressed in MAGA clothing. In a Twitter message, Harris said the country has now seen that there are "two systems of justice" in the US.
We have witnessed two systems of justice: one that let extremists storm the U.S. Capitol yesterday, and another that released tear gas on peaceful protestors last summer. It's simply unacceptable.

— Kamala Harris (@KamalaHarris) January 7, 2021
They were insinuating the Capitol Police are racist and they aren't the only ones.
Michelle Obama Joins In
Former First Lady Michelle Obama released a statement about the incident slamming President Donald Trump and also remarking that the "overwhelmingly peaceful" protesters over the summer were treated differently by police officers.
Like all of you, I've been feeling so many emotions since yesterday. I tried to put my thoughts down here: pic.twitter.com/9xzRvrpk7y

— Michelle Obama (@MichelleObama) January 7, 2021
Those protesters Obama spoke about were burning cities down across the country.
This is a common theme on the Left: they often scream about the police being racist. But, it's even more disgusting that they did so as a Capitol Police officer was in the hospital losing his life.
Copyright 2021, WatchDogReport.org