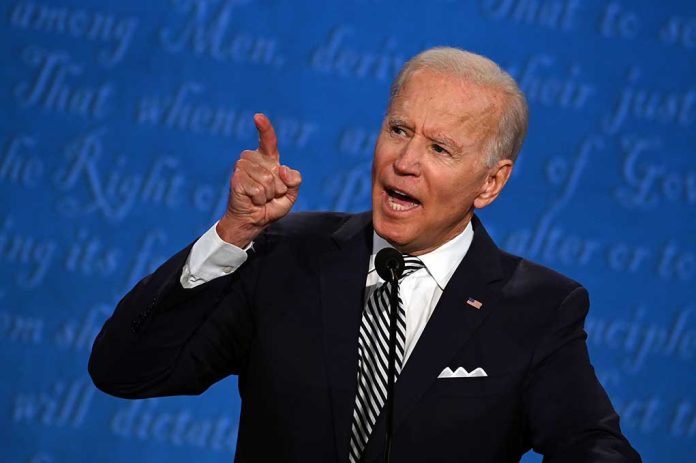 Biden Made A Bold KAMALA HARRIS Threat – He Was Serious
(WatchDogReport.org) – Vice President Kamala Harris' election will go down in American history. She's the first woman to ever fill the role and only the second person of color to be elected to one of the country's top two leadership roles. Just like former President Barack Obama, her legacy is something that will undoubtedly be spoken about for generations in American schools. Unfortunately, Harris' time in the West Wing has not been easy, and a new book indicates President Joe Biden has tried to shield her from criticism.
You're Fired
New York Times journalists Alex Burns and Jonathan Martin claim in their new book, "This Will Not Pass: Trump, Biden, and the Battle for America's Future" that Biden threatened to fire staffers who spread rumors about Harris. The president's threat stemmed from a series of articles last year detailing some animosity between his staff and the VP's. Rumors also circulated that she was a terrible boss who ran her office like a tyrant. Her senior staff was accused of treating aides poorly, as well.
According to the book, Biden was "irritated by the unsightly drama spilling into view." He reportedly knew the vice president had issues when he chose her as his running mate, but he went with her anyway and was defensive of her. When the press continued to publish negative stories, the president called his senior staff into the Oval Office. He told them in no uncertain terms he'd fire them if they leaked negative stories about her.
The book alleges the animosity toward Harris went all the way to the top. Biden's Chief of Staff Ron Klain said he wanted "to vomit" last year after the vice president went to North Carolina, but didn't meet with Rep. Kathy Manning (D-NC). The administration makes it a point to meet with top officials when they visit a district.
Mocking Harris
Burns and Martin report that Biden's staff often mocked Harris and her team. In one incident, the president's staffers laughed at the suggestion that she could add to her international portfolio by taking the lead on White House relations with Nordic countries. When Biden was former President Barack Obama's vice president, he took a very public, international role, constantly traveling to meet with allies.
Biden's staff, however, didn't want Harris to have her own "independently articulated view of global affairs" and vetoed the idea.
The Biden administration has not confirmed nor denied the information in the book.
Copyright 2022, WatchDogReport.org