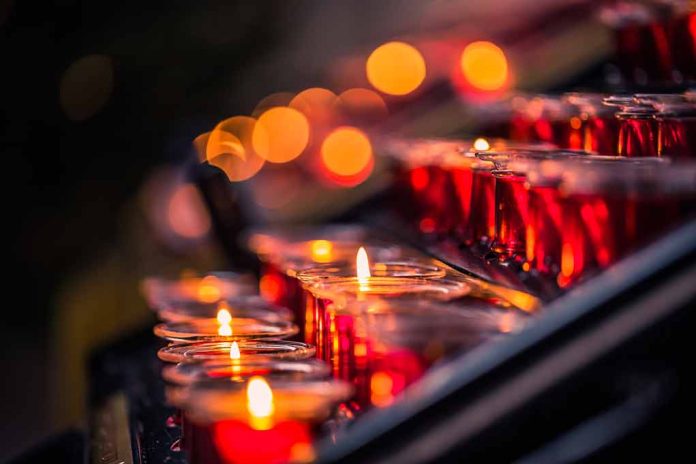 (WatchDogReport.org) – There is a tiny candle burning. It is surrounded by rose-colored glass with a lid made of brass, safely perched atop a tall, thin stand. Its small flame is ever-present in the chapel of a Catholic hospital in Oklahoma. It is a symbol of hope and faith for the healing of the patients treated there, many of whom are below the poverty line.
The Biden Administration wants that flame extinguished. The Department of Health and Human Services (DHHS) used an independent agency to conduct a safety inspection. That agency reported to the DHHS and deemed the candle a fire hazard. DHHS has instructed the hospital chapel to put out the flame or lose Federal funding.
The DHHS threat would mean that the hospital would no longer receive Medicare and Medicaid disbursements. Receiving $650 million in those funds for the last five years, such a blow would be debilitating for SFHS and for its patients.
The hospital is under the umbrella of the St. Francis Health System (SFHS), which operates five hospitals in Oklahoma. Barry Steichen is the Executive Vice President and Chief Operating Officer of SFHS, and he explains that SFHS was founded to care for God's people in a way that shows appreciation and spirituality. 
Over 11,000 people work in the SFHS hospitals. Steichen asserts that the SFHS core beliefs are founded on a correlation between their efforts and their faith in God, represented by the candle.
Steichen says the DHHS request forces the hospital system to choose between being able to care for those with medical needs and the freedom to worship God in the chapel. He insists those two concepts are inseparable.
The Becket Fund for Religious Liberty is a nonprofit dedicated to fighting for religious freedoms. Its organizers have hired attorneys to respond to the DHHS on behalf of SFHS. They promise strong legal battles for the government if the DHHS persists in its request. The Biden Administration has since backed off after receiving the threats of litigation. 
Copyright 2023, WatchDogReport.org