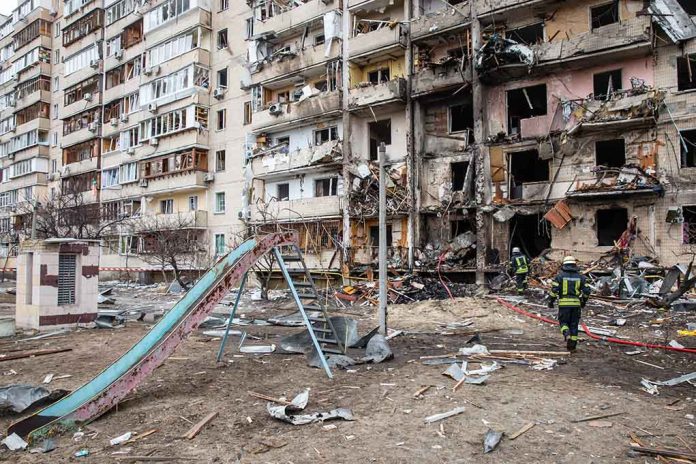 (WatchDogReport.org) – When former President Donald Trump left office, the number of refugees allowed in the United States per year had a cap at 15,000. President Joe Biden raised that cap to 125,000 last October. On Thursday, March 24, the administration announced that it would reserve up to 100,000 of those spots for Ukrainians fleeing the war in their home country.
Part of a Broader, Softer Immigration Policy
The Biden administration is committed to offering a path to citizenship for 11 million illegal aliens living inside the United States. His policies on immigration can be considered soft by most standards. A federal judge, for example, had to put a stop to a Biden order making deportations more difficult for federal law enforcement agents.
Biden did continue a Trump-era policy that calls for the detention of refugees at the border for health concerns during the COVID-19 pandemic. Unfortunately, that decision is now backfiring as ICE agents, forced to follow the law, have no choice but to detain Ukrainians who arrive at the border seeking safe passage.
A US official says authorities are working on new plans and legal paths to the US for Ukrainians on the run, including standard immigration requests as well as humanitarian parole and emergency visas if necessary. Ukrainians with relatives living in the US will be the early focus of those efforts.
Chaos In Europe
War in Ukraine has Europe in a state of turmoil. The UN Refugee Agency says there are 3.5 million people on the run from the conflict, including 1.5 million children. Poland is the country taking the brunt of the burden. A small border town made news after a visit from Secretary of State Antony Blinken. The town, Medyka, is listed by the agency as a critical border crossing for refugees. According to the town's mayor, Marek Iwasieczko, sleep is hard to come by, and the crisis is nowhere near over.
Medyka has seen a disproportionate number of the nearly 2 million people who chose Poland as their exit point from Ukraine. The mayor describes freezing cold temperatures, overcrowded makeshift sleeping halls, and nights during which his small town accommodates as many as 700 people. He says the refugees have lost everything, so if the people of his town have to live with less to help, they'll answer the call.
Surely, with the state of affairs in the region, stories like those from Medyka will be commonplace as Europe embraces people driven from their homes by no fault of their own.
Copyright 2022, WatchDogReport.org