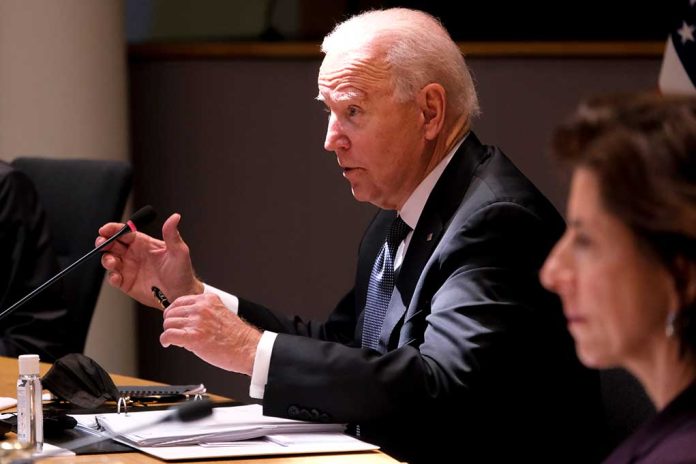 (WatchDogReport.org) – Almost 40% of all homes in the United States use natural gas for their stoves and ovens, though that number can approach 70% in some areas. President Joe Biden's administration may be looking to be throwing cold water on the idea. Senator Joe Manchin (D-WV) let his nearly 360,000 Twitter followers know about this possibility while also telling them about his fiery opposition to the plan.
This is a recipe for disaster. The federal government has no business telling American families how to cook their dinner. I can tell you the last thing that would ever leave my house is the gas stove that we cook on. https://t.co/8IEFM44UvE

— Senator Joe Manchin (@Sen_JoeManchin) January 10, 2023
Richard Trumka Jr. of the Consumer Product Safety Commission told Bloomberg News that his agency is concerned over the indoor pollution caused by the combustion of natural gas by the burners. He started the firestorm when he said, "any option is on the table," and noted that a product that cannot be made safe can be banned from the marketplace.
Representative Cathy McMorris Rodgers (R-WA), who chairs the House Committee on Energy and Commerce, quickly pushed back, saying Congress would be providing oversight to find out just what is being planned and how it might go around enforcing any rule. A White House spokesman tried to quickly turn down the heat on Biden, telling the press that the president is not in favor of banning the kitchen appliance.
Burning natural gas releases nitrogen dioxide (NO2), carbon monoxide (CO), and formaldehyde; the current push is on reducing the first of the three. The Environmental Protection Agency (EPA) says nitrogen dioxide is a toxic gas that, even at low exposure levels, can create problems in people with chronic obstructive pulmonary disease (COPD) and lead to a higher risk of respiratory infections, particularly in youngsters.
After Representative Gary Palmer (R-AL) tweeted his frustration with "unelected bureaucrats" making these kinds of decisions, Trumka responded, attempting to walk back his earlier comment. He said it would be a choice and that those choosing electric instead of gas could be eligible for an $840 rebate. In a follow-up to his Twitter post, Palmer seemed dubious, saying that "it is time to rein in the Biden administration."
Copyright 2023, WatchDogReport.org