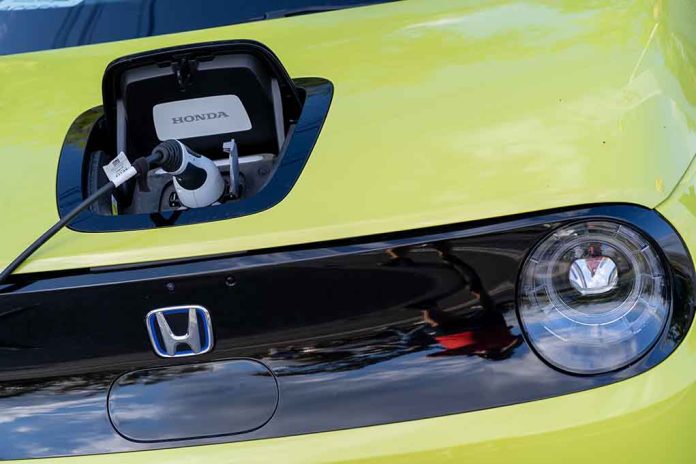 (WatchDogReport.org) – The Biden administration has aggressively promoted the use of electric vehicles (EVs) over gasoline-powered vehicles in the name of climate change since he took office. Recently, Jennifer Granholm, Joe Biden's Secretary of Energy, took a caravan of electric vehicles on a four-day road trip to demonstrate their effectiveness.
Consumers have voiced concerns over issues with EVs, including not being able to find a charging station when one is needed. Granholm encountered this problem first-hand when her caravan was approaching Augusta, Georgia. The Secretary of Energy had a staff member who was driving a gas-powered vehicle go ahead of the EV caravan and park in a charging station to "hold a place" so her caravan would have a space to charge.
While the gas-powered vehicle was blocking the charging station, a family traveling in their EV approached, needing to charge their car. A confrontation ensued, and the family called the police. When officers responded, they explained that it is not illegal in Georgia to park a gas-powered vehicle in an electric charging station.
The family had a baby in their car and were driving in the heat. The staff of the Energy Department re-directed other approaching vehicles, opening a station for the family to charge their vehicle without having to wait. However, other drivers had to sit in line for Granholm's staff to move along before being able to occupy the charging stations.
A reporter from NPR rode along with Granholm's caravan and noted that there were other problems related to charging the EVs during the trip. In Grovetown, they encountered a charging station with a faulty screen. In Tennessee, one of the vehicles only charged at one-third the rate it should have. Electrify America says these complications are "not isolated." Several chargers are not operating correctly due to a faulty component.
JD Power has said that most consumers are hesitant to switch from traditional gas-powered vehicles to electric vehicles because they are concerned about the availability and speed of charging stations.
Copyright 2023, WatchDogReport.org