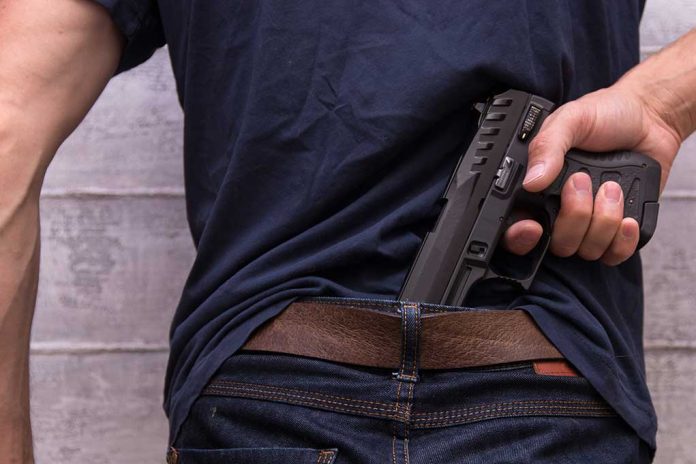 Assassination ATTEMPT – Guards Leap Into Action!
(WatchDogReport.org) – A divisive political leader recently came face-to-face with a pistol that could've proved deadly — but she barely escaped with her life. Argentina's Vice President Cristina Fernández de Kirchner was greeting supporters when suddenly a hand holding a gun appeared, as shown in the video feeds of the event. A mechanical malfunction apparently prevented the weapon from firing.
Security forces have arrested 35-year-old Fernando Andre Sabag Montiel, a Brazilian national living in Buenos Aires. They allege he tried to fire a .380 handgun loaded with five bullets at Kirchner. Almost 24 hours after the event, officials hadn't announced a potential motive nor the reason the weapon misfired.
Fernandez de Kirchner was the country's president from 2007 to 2015. Her return to national politics was viewed as unlikely as recently as 2019, in large part because she's currently on trial and facing a potential 12-year prison sentence on corruption charges. She denies the allegations and has denounced them as a political ploy because a conviction would bar her from ever holding office again. Nevertheless, she was elected vice president in 2019.
The United States strongly condemns the assassination attempt on Vice President Cristina Fernandez de Kirchner, @CFKArgentina. We stand with the Argentine government and people in rejecting violence and hate.

— Secretary Antony Blinken (@SecBlinken) September 2, 2022
Political leaders from around the world have condemned the act, including US Secretary of State Antony Blinken, who tweeted that the country stands with "the Argentine government and people in rejecting violence and hate."
Copyright 2022, WatchDogReport.org