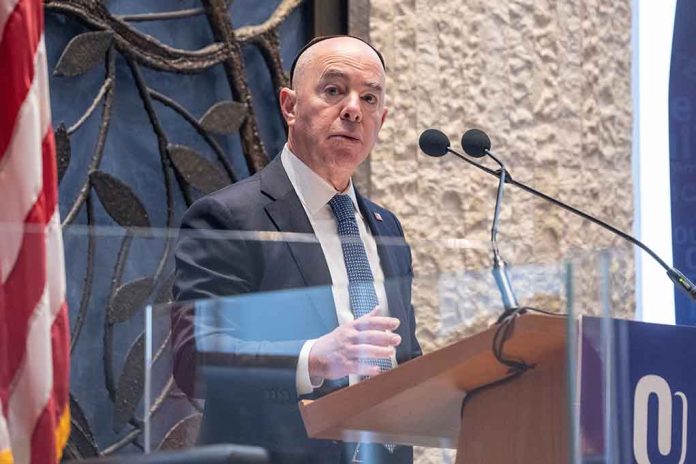 (WatchDogReport.org) – After almost a week of drama in the US House of Representatives involving the election of Representative Kevin McCarthy (R-CA) as Speaker of the House, some members of the 118th Congress got down to working and delivering on promises they made on the campaign trail. Among them is Representative Pat Fallon (R-TX). He recently filed articles of impeachment against Secretary of Homeland Security (DHS) Alejandro Mayorkas for his actions, or lack thereof, when it comes to dealing with the crises at the Mexican border.
I have officially filed Articles of Impeachment on Secretary Alejandro Mayorkas.

— Rep. Pat Fallon (@RepPatFallon) January 10, 2023
The charges, which were filed as House Resolution 8, lay out three counts that Fallon believes rise to the level of "high crimes and misdemeanors" — the constitutional standard required to remove a person from office. The first accuses Mayorkas of violating his duties under Article II of the Constitution, which requires those in the executive branch of government to make sure that duly passed laws are "faithfully executed."
Specifically, Fallon alleges Mayorkas failed to meet his obligation to "maintain operational control" of the southern border because he didn't properly execute his duty to prevent people and drugs from entering the United States illegally. The congressman claims that the sheer number of illegal aliens and the amount of fentanyl found in the United States demonstrate the failure.
The second article of impeachment alleges that Mayorkas perjured himself under oath while testifying before Congressional committees on two different occasions. Fallon says that on April 28 and November 15, 2022, the secretary affirmed that the DHS had operational control over the border in response to specific questions from Republican lawmakers.
The third charge comes from the now infamous "whipgate" scandal, where a 2021 viral photograph was incorrectly pushed as a narrative saying that Customs and Border Patrol (CBP) agents on horseback were using their reins to physically beat a group of Haitian migrants. Even though Mayorkas was aware the photographer had advised DHS that she witnessed no such actions, he still held a press conference pushing the falsehood. Fallon contends that by doing so, Mayorkas not only slandered those under his authority, but also misled the American public for political gain.
Even if the Republican-controlled House manages to impeach Mayorkas, the current makeup of the Senate would make it extremely unlikely he would be convicted and removed.
Copyright 2023, WatchDogReport.org