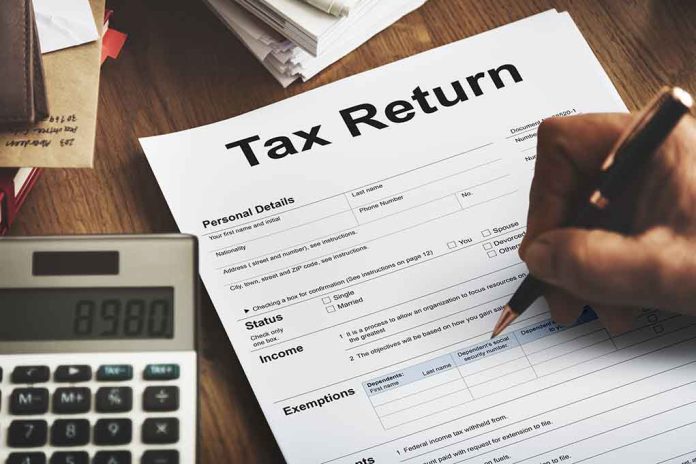 Could You Be Owed a Chunk Of $1.5 Billion And Not Know It? Click To Learn More
(WatchDogReport.org) – When people have to file taxes, especially when they don't have the resources to get help with filing. Roughly 12 million Americans don't file their tax refund, according to the Center on Budget and Policy Priorities (CBPP). There are many reasons that people choose not to file, but the most cited reason is that they didn't realize they had to. This is true of some people, such as those who make less than the standard deduction. However, not filing your taxes can prevent you from accessing the funding you are owed.
The Internal Revenue Service (IRS) recently announced that nearly $1.5 billion in tax refunds for 2018 have remained unclaimed. Individuals who did not file their taxes for 2018 will need to file to receive these funds. While the three-year tax wind passed for most taxpayers, individuals who filed an extension have until October 17 to file their taxes. For these, there is still time to claim your portion of the $1.5 billion still pending.
Where is the $1.5 Billion Coming From?
Roughly 1.5 million taxpayers did not file their 2018 tax returns. The IRS allows a three-year buffer for people to get caught up on their taxes. Unfortunately, this means that the window to file for your 2018 tax return has already passed for most Americans.
However, taxpayers that filed for an extension on their 2021 taxes will have until October 17, 2022, to file their 2018 taxes. Once that deadline has passed, it will be too late to claim your funds, and that money will belong to the government.  
Who is Not Required to File?
Individuals who make under the standard deduction do not have to file taxes. The standard deduction for 2018 was:
$12,000 for single filers

$18,000 for the Head of Household

$24,000 for joint filers
How Much Are You Eligible For?
The exact amount you are owed for 2018 will vary depending on the calculated amount. The government determines this by examining several factors. If you are one of those who are owed money from 2018, the IRS put together some information to help you. The median value for unclaimed funds in 2018 is $813. This means there is a 50/50 chance you will get above this amount.
How to Get Your 2018 Tax Refund?
If you are one of those who still have the chance to get their 2018 tax refund, then you need to act fast to claim these funds. You can either file your taxes on your own or hire a professional tax return service. The IRS also offers free support for qualified individuals who need help with filing and cannot afford to hire a service. Two of these programs are the Tax Counseling for the Elderly (TCE) program and the Volunteer Income Tax Assistance (VITA) program.
Bottom Line
The IRS sent out notices to individuals regarding their 2018 tax refunds. This notice informed taxpayers about the unclaimed funds and gave out information on how to file for their share of the unclaimed $1.5 billion. The deadline for most people to have claimed their missing funds was April 18th (or 19th in some states).
While this deadline has passed for most, those who filed for an extension on their 2021 taxes will have until October 17th to file their refund. If you can still file for your 2018 refund, you will need to do it as soon as possible to claim your funds. If you need help filing, contact an individual tax professional or use a tax preparation service like H & R Block. You may also be eligible for free tax services offered by the IRS.
Copyright 2022, WatchDogReport.org