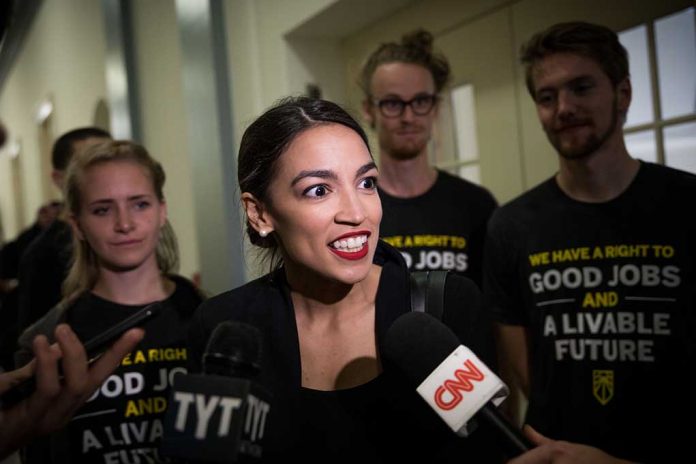 (WatchDogReport.org) – Since the January 6 incident on Capitol Hill, Rep. Alexandria Ocasio-Cortez (D-NY) has spent a lot of time spreading conspiracy theories and lies. The congresswoman is more radical every time she talks and constantly targets Republicans. Meanwhile, she's telling her supporters to report Conservatives whom she believes are doing the exact same thing she's doing. What's worse is nobody is stopping AOC, not even the Democratic Party or Big Tech.
Report Misinformation
On Wednesday, February 3, Team AOC sent an email out to supporters asking them to report misinformation on social media platforms. The congresswoman was apparently angry about the response she has received from her story about the Capitol Hill incident.
AOC calling people to report misinformation hmmmm pic.twitter.com/mVoglHpqdT

— Jack Posobiec 🇺🇸 (@JackPosobiec) February 4, 2021
Interestingly, she's one of the biggest purveyors of misinformation as of late, but it doesn't seem as though AOC's supporters are going to report her lies.
AOC's Endless Lies
In the past few weeks, the Democratic congresswoman has made all sorts of wild statements. On January 12, during an Instagram Livestream, AOC accused the Republican Party of not caring about the law. She said they would "rather see our country burn" than stand for equality. Then, she claimed that they only care about "preserving the social order and the mythology of whiteness."
None of that is true, of course. The GOP has people of color within its ranks and President Donald Trump saw more minorities vote for him than any other Republican in decades.
AOC didn't stop there. On January 28, she accused Senator Ted Cruz (R-TX) of trying to have her murdered during the Capitol Hill incident. The senator never did any such thing and she provided zero evidence. More than a week later, Twitter has still not taken the tweet down or labeled it in any way.
I am happy to work with Republicans on this issue where there's common ground, but you almost had me murdered 3 weeks ago so you can sit this one out.

Happy to work w/ almost any other GOP that aren't trying to get me killed.

In the meantime if you want to help, you can resign. https://t.co/4mVREbaqqm

— Alexandria Ocasio-Cortez (@AOC) January 28, 2021
Finally, on February 3, the congresswoman said Trump supporters planted bombs on Capitol Hill surrounding lawmakers' offices. This is factually incorrect. The pipe bombs were found at the RNC and DNC headquarters. And also, the FBI has not named any suspects or given any motive for the devices. Once again, Twitter has refused to take steps to remove the tweet.
This is the latest manipulative take on the right.

They are manipulating the fact that most people don't know the layout the Capitol complex.

We were all on the Capitol complex – the attack wasn't just on the dome.

The bombs Trump supporters planted surrounded our offices too. pic.twitter.com/jI18e0XRrd

— Alexandria Ocasio-Cortez (@AOC) February 3, 2021
If anyone should be reported for misinformation and stripped of her committee assignments, it's AOC. Unfortunately, the Left and Big Tech don't treat their own the way they treat Republicans.
Copyright 2021, WatchDogReport.org