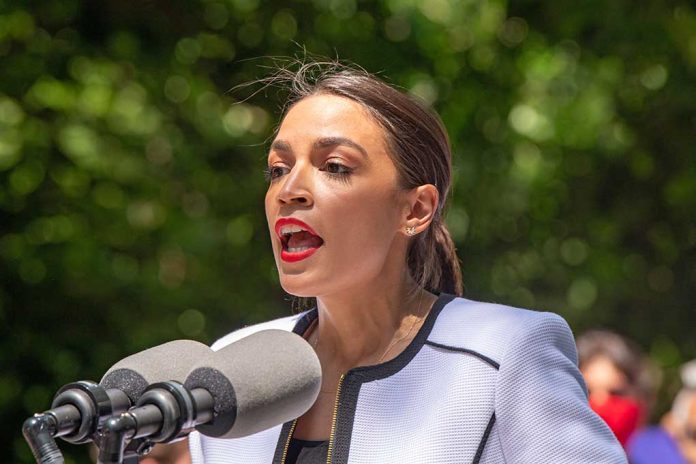 (WatchDogReport.org) – In September 2021, Representative Alexandria Ocasio-Cortez (D-NY) infamously attended the Met Gala in a designer gown with large red letters reading "tax the rich" emblazoned across the back. Media speculation is that complaints about her attendance are what prompted a current ethics investigation. AOC's office has now responded to the news of that probe.
House Ethics Committee reveals it has been investigating AOC for past 6 months https://t.co/ecF8Y4lVAt pic.twitter.com/TPalIOmTyE

— Eyewitness News (@ABC7NY) December 9, 2022
Following the Met Gala, the Office of Congressional Ethics (OCE) received two complaints against AOC about her attendance. One was filed by the American Accountability Foundation (AAF) and the other by the National Legal and Policy Center (NLPC), each asking for an investigation into whether or not she violated House rules for accepting the designer gown and the two tickets themselves that are estimated to be worth $35,000 each.
Doesn't that just make AOC's blood-red message a teeny bit hypocritical?
One major concern is the access certain lobbyists would have had to the congresswoman, while others would have been shut out if their company had not sponsored one of the exclusive tables at the cost of $200,000-$300,000.
To be clear, no official reason for the investigation has been given; major media outlets are simply speculating that the two are related.
"We are confident that this matter will be dismissed."https://t.co/oTsCqsZRfy

— Daily Wire (@realDailyWire) December 8, 2022
AOC's office has denied any impropriety, saying she takes ethics very seriously, and they are confident the matter will be resolved.
Copyright 2022, WatchDogReport.org