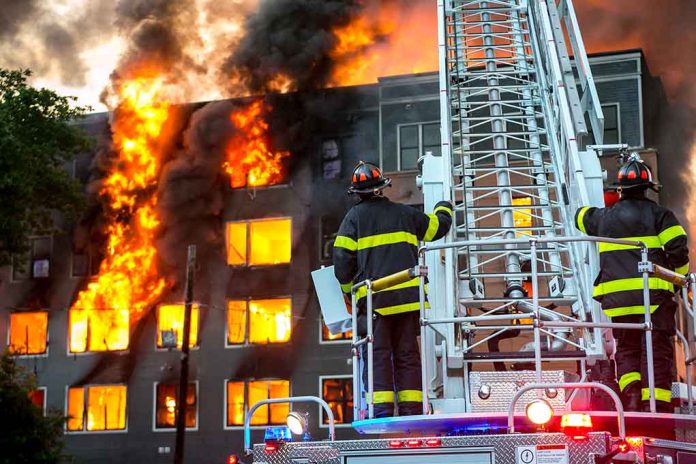 U.S. Food Supply Suffers ANOTHER Blow – Up in Flames!
(WatchDogReport.org) – Since President Joe Biden has taken office, one problem after another seems to be contributing to empty grocery store shelves across the country. One industry that has been hit particularly hard so far in 2022 is food manufacturing, processing, and distribution as another plant caught fire.
The most recent incident took place at the Festive Foods processing plant in Waupaca, Wisconsin, where fire crews were on scene for almost 12 hours battling a blaze that was creating so much smoke, they could not enter the building. As firefighters were leaving the scene, Area Fire District Chief Jerry Deuman must have felt that preliminary indications of what started the fire were sufficient because he said there would be no further investigation into the matter.
Conservative commentator Charlie Kirk is one of the growing number of people who are questioning why so many of these incidents keep happening. In the first half of the year, there have been dozens of incidences involving similar businesses, including:
The General Mills plant in Cedar Rapids, Iowa, on April 23
The headquarters of Azure Standard facility in Duzur, Oregon, on April 19
A Perdue Farms facility in Chesapeake, Virginia, on April 30
Food processing plants don't just "accidentally" burn down at this rate and they certainly don't "coincidentally" become landing pads for plane crashes at the rate they are.

Our food supply is under attack in America. The question is—by who?

— Charlie Kirk (@charliekirk11) April 29, 2022
Those like Mr. Kirk don't believe this is coincidental, and are convinced of the old adage that says "where there's smoke there's fire." Self-proclaimed fact-checkers are labeling any suggestion that the administration is trying to manufacture food shortages as a conspiracy theory. Who do you believe is right?
Copyright 2022, WatchDogReport.org