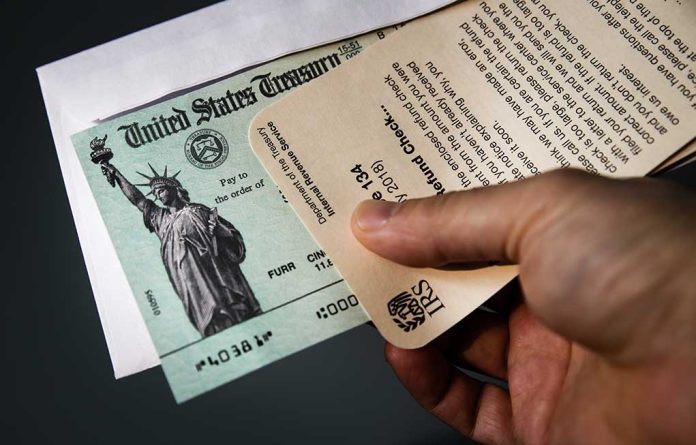 IRS PAYOUT Confirmed – Some Americans To Receive Bonus!
(WatchDogReport.org) – The Internal Revenue Service (IRS) has nearly 10 million unprocessed tax returns. The agency's backlog dates back to the beginning of the pandemic and continues through the current year's tax season. For many Americans, the wait has been long and difficult. Waiting doesn't come without at least one added benefit, however: interest.
The IRS is about to pay out billions in interest to Americans still waiting on refunds https://t.co/gDYmfomAvU

— Business Insider (@BusinessInsider) May 9, 2022
The Treasury will be stuck paying out billions for the unprocessed returns. The IRS is bound by law to either process and pay filers within 45 days of receiving their forms or pay interest on the balance due. The interest is tied to the Federal Reserve Bank's current interest rate, meaning taxpayers will see an extra 4% when their check or direct deposit does arrive.
Paying interest to taxpayers is nothing new, but it is hitting unprecedented levels. According to the Government Accountability Office, nearly $14 billion in interest has made its way into the hands of Americans over the past 7 years. Approximately $3.3 billion of that went to filers in 2021 alone.
Processing returns on time is tough enough in typical times, but the COVID-19 pandemic added some challenges that were utterly unavoidable. When former President Donald Trump and President Joe Biden extended the tax season, for example, it gave taxpayers extra time to prepare and file. But, the processing date remained linked to the legal day to file — April 15 or the following business day. Returns received a week after that, for example, were already a week late for the processing deadline.
Those expecting refunds who have waited more than 45 days can expect a nice bump, but be forewarned: the IRS considers it taxable income for next year's return.
Copyright 2022, WatchDogReport.org