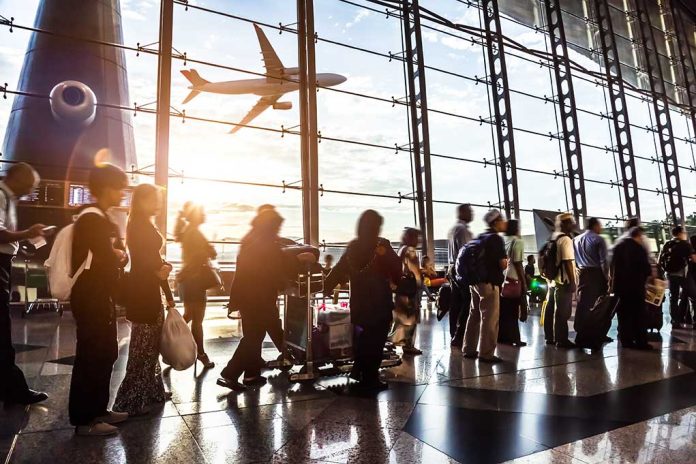 Airport SHOOTER Identified – Details Released
(WatchDogReport.org) – The late morning hours of Monday, July 25, were anything but peaceful for people at Love Field Airport in Dallas as the sound of gunfire erupted. Portia Odufuwa, 37, the suspected shooter, is now in custody after she allegedly opened fire near the Southwest Airlines ticket counter and also threatened a police officer, perhaps even taking a shot at him.
Surveillance video and witness accounts show that Odufuwa was dropped off at the airport by an Uber and proceeded to a bathroom where she apparently changed clothes. After returning to the ticketing area, she said she had an announcement to make, pulled her gun, and fired two shots into the ceiling.
Latest on #LoveField shooting:

Video shows 37yo Portia Odufuwa dropped off at the airport by an Uber driver (not involved)

Odufuwa comes out of restroom & fires multiple shots at the ceiling@DallasPD says she pointed her gun at a DPD officer, who shot her in the leg @FOX4 pic.twitter.com/qzxjp2f9kO

— Peyton Yager (@peytonyager) July 26, 2022
This is not the suspect's first run-in with law enforcement; she was arrested for bank robbery and arson (in separate incidents) in 2019. Odufuwa was detained at the same airport on September 28, 2020, and taken in for a mental health evaluation.
Reports say that although she has several arrests, the court cases have been dismissed because judges have ruled she doesn't have the mental competency to stand trial. At the scene of her arson arrest, she allegedly pronounced herself to be "God's prophet."
Dallas Police Department (DPD) Officer Ronald Cronin is credited as the one who put a quick stop to the shooting. Odufuwa was taken to the hospital to be treated for gunshot wounds to the legs.
Copyright 2022, WatchDogReport.org