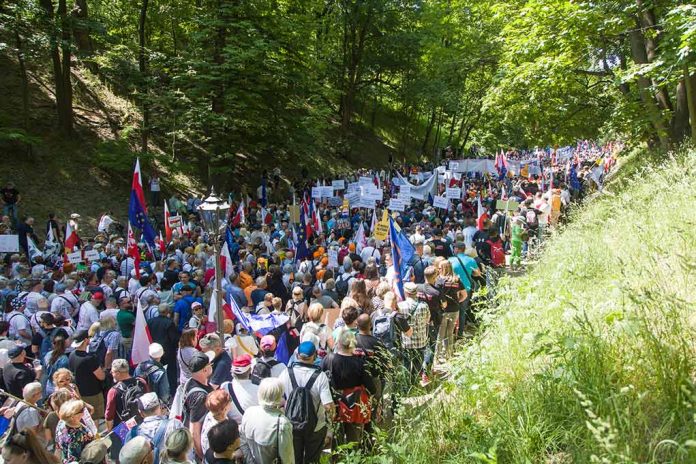 (WatchDogReport.org) – A large crowd took to the streets of Poland's capital Warsaw on Sunday, June 4, to protest against the country's right-wing government of President Andrzej Duda. This massive march occurred in the wake of a delicate electoral event that experts believe could set a turning point in the Central European country.
According to Warsaw's city hall, 500,000 people attended the protest, representing one of the biggest marches Poland has seen in its modern history. The main locations of this rally were the city's metro and the downtown area. Reports point out that the protest was peaceful, with people waving the European Union flag to protest against the government's "nationalism."
The rally was against the government and the ruling party, Law and Justice (Pis), which many blame for being ultra-conservative and authoritarian. This march was held on the 34th anniversary of the end of communism. Some political analysts point out this is ironic as many of the people who rallied against PiS are members of Poland's extreme left.
The march was organized by former Polish Prime Minister Donald Tusk, who was also the president of the European Council. Currently, he's one of the foremost opposition leaders in the country as he leads the Civic Platform party (PO). Many polls show that this party has enough popularity to beat PiS in an election.
The march took place a couple of days after President Duda signed off on a bill that established a commission to investigate the extent of Russian influence on Poland's security. This commission will have extensive power, including slapping a 10-year ban from holding public office to those that make political decisions under Moscow's sway.
The Polish opposition has criticized this bill, claiming that these sanctions could be used against Tusk. After all, some media outlets and political leaders have said he could be one of the main allies of Russian President Vladimir Putin in Poland.
Copyright 2023, WatchDogReport.org