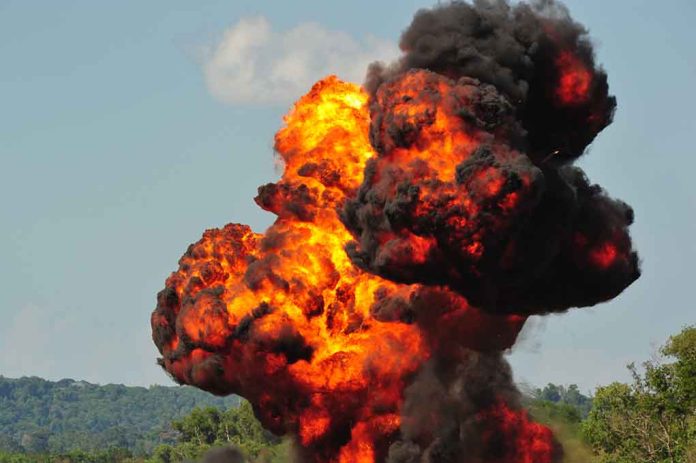 (WatchDogReport.org) – On Saturday, August 12, 2023, an explosion shook Plum Borough, Pennsylvania, leaving a home leveled. Three surrounding homes caught on fire and were destroyed. At least twelve more structures sustained damage from the blast.
According to Lanny Conley, the Plum Borough Police Chief, five bodies were recovered from the debris of the leveled home, including four adults and one child. Three others from the surrounding houses were transported to the hospital with injuries. Two were released, while the third, 56-year-old Paul Oravitz, succumbed to his wounds on August 16.
Fifty-seven firefighters underwent treatment on the scene for various injuries. Chief Conley asked for patience and respect from the community while the medical examiner's office examines the bodies of the deceased, and the cause of the explosion is investigated.
Eighteen different fire departments collaborated to extinguish the fires ignited by the explosion. Water tankers from Allegheny County and Westmoreland County were used to assist the fire departments.
The cause of the initial explosion is still unknown. People's Gas president, Michael Huwar, stated that the company's system was "operating as designed."
The county fire Marshall and law enforcement will conduct a thorough forensic investigation and expect the process to be slow and ongoing for "months to years." People are instructed to avoid the area unless their presence is necessary.
Dr. Rick Walsh, the Plum Borough School District superintendent, issued a statement offering sympathy and support to the community. Town leaders canceled all events scheduled for Monday, August 14, 2023. The community has provided resources and support for all affected, including food, water, grief support, and fundraising efforts.
Plum Borough has a history of similar explosions. In April of 2022, another home was destroyed by a blast. The cause has yet to be determined. A separate home explosion in 2008 was eventually determined to be caused by a gas line corroded from damage five years prior. Another explosion in 1996 was attributed to natural gas.
Copyright 2023, WatchDogReport.org