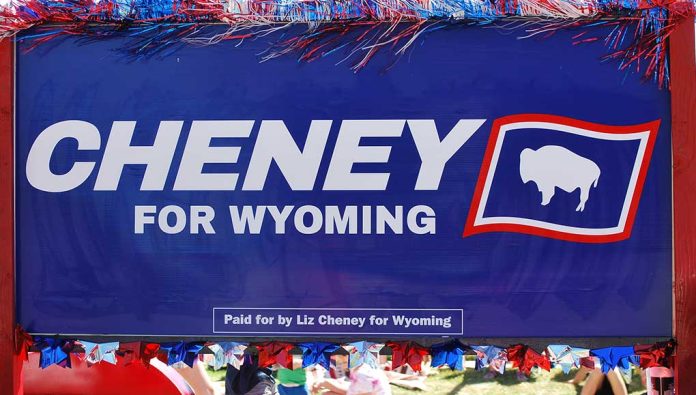 (WatchDogReport.org) – Rep. Liz Cheney (R-WY), daughter of former Vice President Dick Cheney, was on track to having a long career in the Republican Party. She first stepped into her role as congresswoman for Wyoming's at-large district in 2017, quickly becoming the third most powerful member of the House GOP caucus. Now, she's on track to lose her seat.
Counties Make Disdain Known
On Thursday, October 12, reports revealed Park and Carbon counties both recently unanimously voted to stop recognizing Cheney as a Republican. A letter to the congresswoman reads, "In the immortal words of the 45th President of the United States of America, Donald J. Trump … 'You're Fired!'"
Carbon County Republican Party Chairman Joey Correnti told a local newspaper GOP officials in Big Horn, Weston, Laramie and Unita requested copies of the resolution.
Cheney's Downfall
The animosity toward Cheney stems from her vote to impeach former President Donald Trump earlier this year. She blamed him for the incident on Capitol Hill on January 6, accusing him of staging an insurrection. The Wyoming GOP voted to censure her for her vote against Trump back in February.
The drama could have possibly ended there, had Cheney focused on issues important to Republicans. Instead, she spent months trashing Trump. She spoke out against her own party, too, rarely showing interest in representing her constituents.
So, in May, the House GOP moved to strip her of her leadership role.
Trump got involved, too. Over the past few weeks, the former president met with Republican challengers to her seat. He claims forcing the congresswoman out is one of his "top priorities." At least seven conservatives seek to unseat her in 2022.
The former POTUS has yet to endorse anyone, but he's expected to maintain a significant amount of sway over right-leaning voters.
Cheney's latest decision to join Speaker of the House Nancy Pelosi's (D-CA)'s January 6 committee also angered Conservatives.
As for Wyoming's votes, those are symbolic. Officials in Carbon County and Park County can publicly express their displeasure with her, but they aren't able to actually kick her out.
Cheney's spokesperson, Jeremy Adler, also responded to the news. He says the congresswoman's fight for Wyoming continues; she isn't bound by "loyalty to one man."
Copyright 2021, WatchDogReport.org